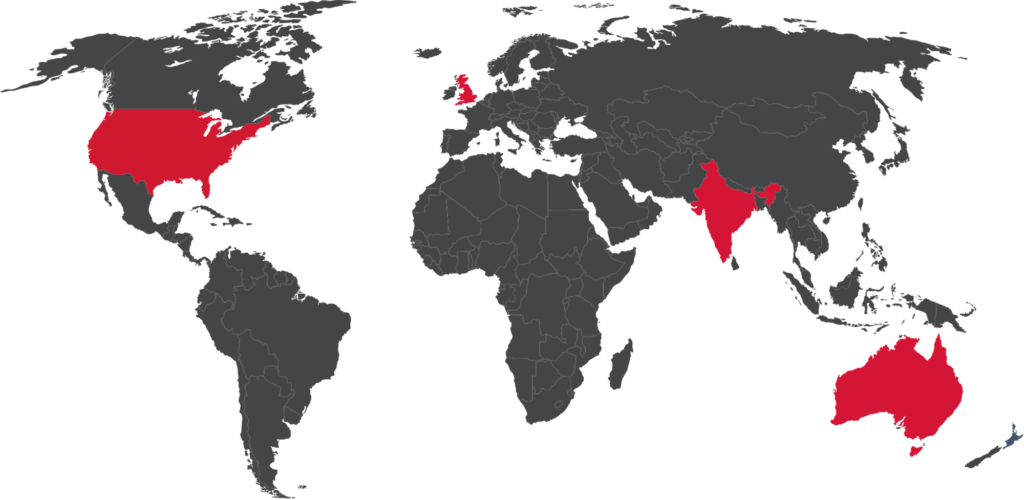 With sites in the United States, India, Europe, and Australia, Ferra is well positioned to deliver as a trusted partner on multinational platforms and programs. Ferra's strategically placed global network ensures we are able to leverage access to low cost manufacturing and advanced techniques, maximize on our operational capabilities, and bring value to our customers and industry.
This central location allows Ferra to serve a customer base on both coasts, as well as international markets. Ferra partners with over a dozen local businesses and vendors, resulting in strategic Supply Chain solutions for aerospace manufacturing and processing requirements.
Ferra's Grove, Oklahoma site includes a 50,000-sf facility with an assembly room and administrative offices. Ferra recently added an additional 50,000-sf facility of floor space for the addition of 5-axis machining for complex machining and assembly of aerospace components.
The site currently supplies a range of aerospace assemblies and components for the F-35 Joint Strike Fighter, the F/A-18, CH-47, and the Triton and Global Hawk unmanned aerial vehicles. Key customers include Northrop Grumman, Lockheed Martin and Boeing.
Ferra has also established a presence in Arkansas. The facility offers many services, but primarily specializes in manufacturing and assembly. Ferra Arkansas provides services to Northrop Grumman, Boeing, Lockheed Martin, and many more industry leading companies. Ferra Arkansas is committed to customer satisfaction by providing quality products on time and adopting the Group's philosophy and practice of continuous improvement of quality in our procedures and products.
Ferra Arkansas has been awarded Northrop Platinum Supplier status, Boeing Gold Supplier status, and is a United Space Alliance Level 2 Supplier.
This western US facility, located in Anaheim, serves the Ferra group in multiple facets as an integral hub.
The site plays a key role in production management, customer support, and delivery for our customers. Boeing programs include F/A-18, P-8, CH-47, JDAM-ER, and most commercial aircraft. Northrop Grumman programs include MQ-4C Triton, F/A-18, and JSF-35. Support for Parker Hannifin includes commercial and defense programs. Our work for Cobham AES supports JSF-35.
Ferra Anaheim maintains ongoing management of regional and national sub-contract suppliers such as heat treatment, NDT, processing, assembly, and test. This facility also serves as a logistics hub for the Group, managing transit of materials to and from our international and domestic sites, as well as for customer deliveries, and acts as a forward stocking hub for Ferra's US based customers contracting with international sites.
Established in 1992, Ferra Brisbane created the business model and manufacturing processes that have been adopted across the Ferra Group.
The Brisbane site offers expertise across all Group capabilities, with vast experience in complex project management and aerospace and defense manufacturing processes. The Brisbane location enables Ferra to support global supply chain goals by providing stable Australian supply input.
Ferra Australia supports all other group entities in achieving a high level of customer satisfaction through timely delivery and exceptional quality.
Ferra India was established in 2011 to build a strategic presence in Asia to meet customers' needs both from a commercial and defense perspective in the region.
Ferra India manufactures complex components that require high-end machining. With the help of our established supply chain for special processing, Ferra provides end-to-end solutions (sourcing, manufacturing, special processing, assembly/integration) under one roof for our global customer base.
Ferra India played a key role in several projects for Boeing, including the 737, 747-8, 777, F/A-18, CH-47, P8, BDA Currawong parts and JDAM-ER.
Ferra has a small but specialized capability in the UK, which consists of senior level staff with extensive Aerospace and Defense Industry experience, as well as strategy and consulting heritage. Ferra's UK office provides support to the overseas operational facilities to integrate with Ferra's European customers and suppliers.